Well, i know this will be a surprise to most of you, but since we are working on our paperworks to go back to the Philippines, Jason and I will get married coz we need it for some paperworks. Anyhow, I am still uncertain if I want to get married in Las Vegas, here in Arkansas or just walk in the courthouse. Because nevertheless we are going to get married again in the Philippines next year or the next.
So anyways, I saw this gown and I think it's my favorite from all all the gowns i looked at online
I love the simplicity and elegance
It's very divine looking, i love it!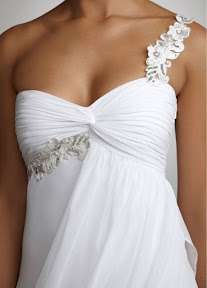 Simple and Lovely
So what you think?
"Lhey"
- Posted using BlogPress from my Baby iPhone